VOTE! T-shirt design contest
Thank you to everyone who submitted an entry for our contest!
We are so overwhelmed by the amount of participation and the amazing talent of our patients!
Vote! Vote! Vote!
May 8th - May 19th via Facebook and Instagram!

_________________________________________________________________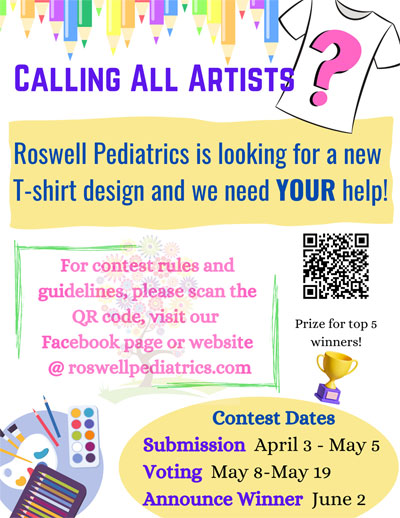 RPC T-SHIRT CONTEST INFORMATION
ELIGIBILITY/ENTRY
There is no entry fee to submit a design. All entrants must be a current patient of Roswell Pediatric Center. This contest is for patients only. Only one design submission per person is allowed. If you are under the age of 18, your design must be submitted by a parent or guardian on your behalf.
REQUIRED DESIGN COMPONENTS
The winning design will be placed on the front of Roswell Pediatric Center employee T-shirts.
Theme: "We Grow Healthy Kids"
Colors: The winning design will be printed on a white T-shirt.
RULES AND GUIDELINES
This contest is open to all current Roswell Pediatric Center patients.
All designs must be an original creation of the contestant and incorporate all the required design components outlined below. Submissions must not have been previously published and must not contain profanity, trademarks, other organization's logos, or any copyrighted works of any other person or business.
Submissions can be dropped off at an RPC location or submitted via email by 11:59PM on May 5, 2023.
The patient/parent or guardian agrees to sign a waiver to allow Roswell Pediatric Center the use of their design, free of charge, for all printing and promotional purposes. Also, must allow the first name and age of the child to be published.
By submitting an entry, you are agreeing to all contest rules. If you have any questions, please email contest@roswellpediatrics.com.
The top 5 designs will get a prize. The 1st place winner will receive a $100 Target gift card, a T-shirt with their design, and bragging rights! The other 4 top picks will get a $25 gift card each.
TECHNICAL STUFF
Submit your entry on an 8.5" x 11" piece of unlined, white paper along with a signed entry form.
Do not use fabric paints, metallic markers, neon colors or glitter. Artwork cannot contain any 3D elements (puffy paint, pipe cleaners, etc.). Artwork must be scanned, and these mediums do not reproduce well.
Bold and colorful artwork reproduces the best. Markers and paints are ideal because they provide a saturated look. Pencil drawings may look too faint or sparse.
Do not sign your name on your design or put a date on the artwork – please lightly write the child's name in pencil on the back of the artwork.
Entries can be hand drawn or computer-graphics generated. If you create a computer graphic image, you cannot use clip art, or any other art or images unless you create them. No photos of any kind can be part of your artwort.
If computer-generated, save the design as a jpeg or pdf at the highest resolution image possible (up to a file size of 10 MB). Email to contest@roswellpediatrics.com
Remember the design must be your own original unpublished work and must not contain any third-party logos, trademarks or copyright material.
HOW WINNER IS SELECTED
Entries will be evaluated by providers/employees of Roswell Pediatric Center to choose the top 5 designs. These top 5 designs will then be voted on by patients and families of Roswell Pediatric Center via social media and while in the office for visits from April 3, 2023 to May 5, 2023. If a tie breaker is required, a partner of Roswell Pediatric Center will cast the final vote.
Entries will be chosen based on

Sticking with the theme
Originality of design
Adherence to design submission rules and regulations
Successfully capturing the spirit of Roswell Pediatric Center
MEDIA RELEASE
By submitting artwork, you agree that if your design wins, Roswell Pediatric Center retains first printing rights and a free license, in perpetuity, to utilize the design on T-shirts and other promotional items, and marketing, fundraising, and public relations materials. You are guaranteeing that your design does not contain any copyrighted material, including images/copy found in the internet. Contest entrants who are not selected as the winning designer retain all rights to their artwork.